FAQs
How Often Should I Have My Dog or Cat's Teeth Cleaned?
The correct answer depends upon the animal, as some lifestyles and diets can make dogs or cats more prone to the build up of plaque and tartar. In most cases, we recommend an annual ultrasonic teeth clean, but talk to us at Clyde Vet for a proper assessment of your pet's needs.
Should I Clean My Dog Or Cat's Teeth Between Dental Checkups?
Yes, ideally you should be manually cleaning your dog or cat's teeth and gums daily. Although this is not practical for many pet owners, we strongly recommend implementing a regular tooth cleaning regime, as often as is feasible for you.
What's the Best Way to Clean My Dog Or Cat's Teeth Between Dental Checkups?
We strongly recommend the use of a specialised finger brush tailored to your dog or cat's size to manually clean their teeth and gums as the gold standard for preventative dental health care.
Your dog or cat will take some time to become comfortable with having you manually clean their teeth, which is why we recommend starting them out as young as possible while they are still puppies or kittens. Start by gently lifting up your dog or cat's top and bottom lip one side at a time and lightly rubbing their teeth with your finger once a day. Once they become used to this, you should begin use of the finger brush, massaging it across their teeth and gums in a circular motion, just like you would your own teeth. We recommend the use of specially flavoured dog or cat dental toothpaste to make the process more enjoyable for them.
You can also help prevent unnecessary dental disease by making sure your dog or cat has a regular supply of dry food available, as this can help counteract the buildup of plaque deposits. You should make sure they are chewing this food and it creates an audible crunching sound to ensure the necessary level of physical abrasion is present. You can also reward your pet with regular "dental treats", which are specially formulated edible snacks designed to remove plaque and tartar build up.
A range of finger brushes, dental toothpastes and dental treats are available from Clyde Veterinary Hospital – make sure you ask about them at your next appointment.
Do Elderly Dogs or Cats Have Any Special Dental Needs?
The risk of dental disease in dogs and cats rises with the age of your pet – keep an eye out in older animals for any loose or painful teeth, difficulty in eating or loss of appetite, and always make sure they come in for their regular annual dental check-up.
So Smaller Dogs or Small Animals Have Any Special Dental Needs?
Smaller dogs and other small mammals are more likely to have overcrowded or misaligned teeth, which can be difficult to keep clean and thus compromising your pet's dental health. We recommend keeping a special eye on smaller pets' teeth and gum health to prevent any special complications, and you should always make sure they are scheduled for a regular annual dental check-up.
How Can I Tell If My Dog or Cat has Dental Issues?
Dogs and cats both display similar symptoms when they are facing problems with their dental health. The most common symptoms are bad breath or you may notice a yellowish-brown tartar forming on their teeth. More severe symptoms include loss of appetite, and your dog or cat licking up their food and avoiding chewing it or using their front paws to rub at their mouth. You should also keep an eye out for excessive drooling and visible bleeding from or discolouration of your dog or cat's gums.
Stages of Dental Disease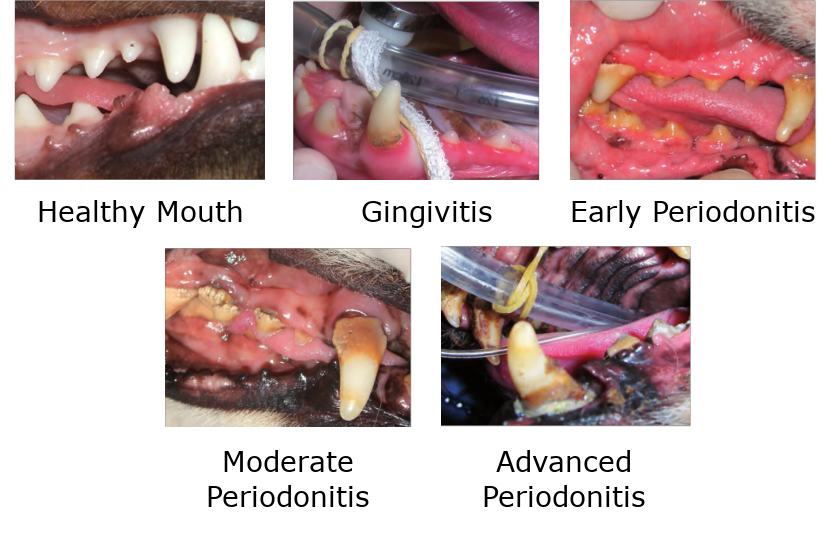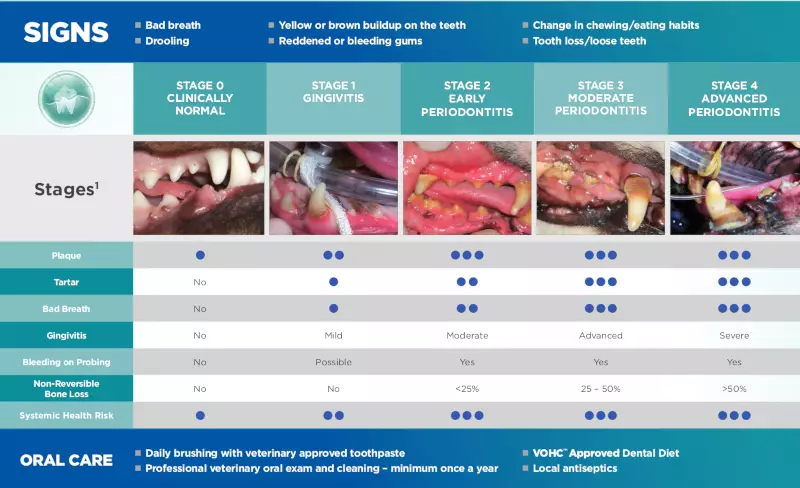 At What Age do Puppies Begin Teething?
Except in rare cases, most puppies are first born without teeth, and their teeth should start emerging at around 3 weeks of age. Most dog owners are not aware that the teething process can actually last up to 6 months in some cases, so you should be on the lookout for any teething related issues during this period.
Your puppy may experience some loss of appetite or bleeding from the gums while first teething, which in most cases passes quickly. If you have any concerns, or they are showing more severe symptoms, contact Clyde Veterinary Hospital for a more in-depth checkup.
Teething starts in earnest around 16 weeks, when their puppy teeth are gradually pushed out by permanent adult teeth. By the time they are aged around 7-8 months, your should expect your pup to have all 42 of their normal permanent adult teeth.
At What Age do Kittens Begin Teething?
Most kittens begin their teething at around 3½-4 months of age, when the primary incisors begin their replacement by permanent incisors. By the time the average kitten is 6- 7 months old, all 30 of their adult teeth should have erupted.