The 7 Steps to Keeping Your Pet's Mouth Healthy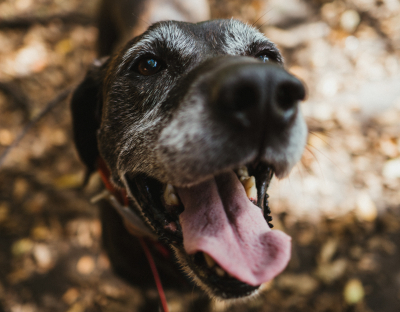 The key to managing gum or tooth disease, whether in dogs, cats or humans is prevention.
And with research showing up to 85% of dogs or cats experience some form of dental health issue by just 3 years of age, it's vital for their wellbeing that you do your utmost to prevent it developing.
And dental disease doesn't just present tooth, gum and feeding/diet issues. It can also cause harmful bacteria to pass to your pet's major organs and cause serious or even life threatening health complications.
There are a few simple steps you can take to ensure maximum dental hygeine in your pet, and what better time than "Dental Month" to run you through some of the basics.
1. Watch for Signs and Symptoms of Disease
As a secondary benefit of regularly brushing your dog or cat's teeth, you will be routinely getting up close and personal enough with them to notice most emerging tooth or gum issues before they become serious.
Periodontitis has four main stages – progressing from minor plaque build up or mildly inflamed gums through to full blown gingivitis to mild or severe periodontitis – which can result in the loss of teeth or even bone tissue disease.
Dogs and cats both display similar symptoms when they are facing problems with their dental health. The most common early symptoms are bad breath or you may notice a yellowish-brown tartar forming on their teeth. These handy graphics will give you a good idea what to look out for and to judge how serious the dental problem might be.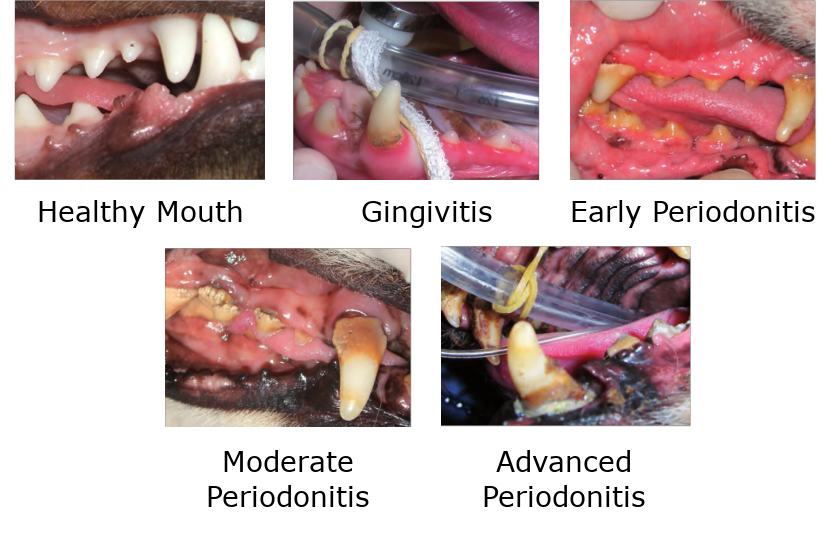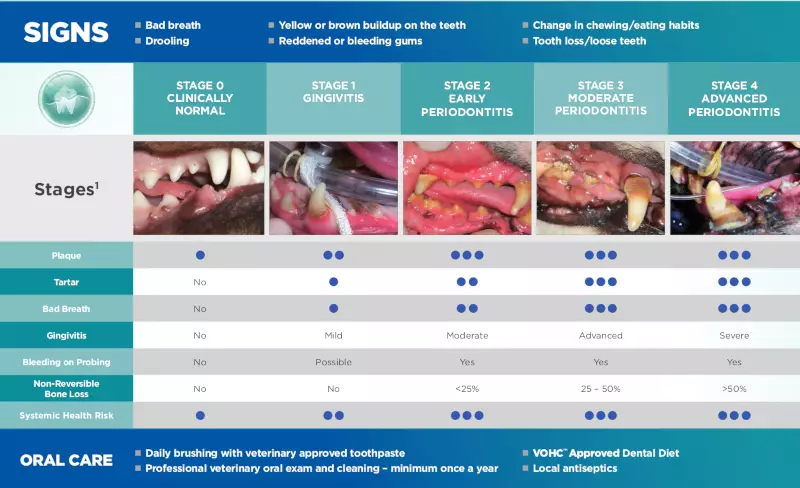 A healthy pet's mouth should show gums of a uniform light pink colour, with clear white teeth showing no discolouration or build up of plaque around the gums.
Gingivitis – the earliest stage of dental disease will usually present as a red discolouration of the gums – particularly around the base of or between the teeth.
If the disease advances to actual periodonitis, you will notice a more severe discolouration through larger areas of the mouth, and a yellowing of the base of your dog or cat's teeth, and some bleeding from the gums may also be present, depending how advanced the disease has become.
You may also begin to notice a yellowing or darkening of the enamel on your pet's teeth, which can lead to a serious and painful abscess, or even bone loss, if not treated promptly.
More severe symptoms include loss of appetite, excessive drooling, and your dog or cat licking up their food and avoiding chewing it, favouring one side of their mouth in eating, or using their front paws to regularly rub at their mouth. 
See your vet urgently if your pet is displaying any one or more of these symptoms.
2. Clean Their Teeth Regularly
Few pet owners take the time to give their animal's teeth a regular or dedicated clean, but this is without question the gold standard in preventative care.
Just imagine if you brushed your own teeth as infrequently as you do your pets', the number of dental issues that you would be facing. Yet the processes of developing dental disease is exactly the name, no matter what the species.
We strongly encourage the use of a dedicated species-specific toothbrush or "finger brush" – which is a specially designed plastic overlay that you place over your finger and use to brush their teeth directly, and which gives much better tactile feedback and a better experience for your pet.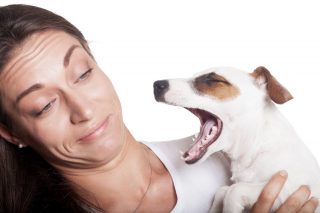 All these products have a similar level of efficiency, but a couple of good lists of suiitable products for dogs or cats can be found here>
The 10 Best Dog Toothbrushes in 2019
Best Cat Toothbrushes Reviewed – 2019
While using a dedicated dental paste is not essential, again this is really the gold standard. Dedicated pet-specific formulations are available which have a palatable taste for pets, and which provide additional benefits such as mouth freshening and prevent plaque buld up.
We DO NOT recommend using human toothpaste to clean your dog or cat's teeth, as these can contain ingredients that can be harmful to dogs or cats if used over an extended period.
We do recommend products such as Oxyfresh Pet Dental Gel, which is completely odourless and tasteless and made from natural ingredients.
It's important that you remain committed to a daily process of brushing in order to maintain the benefits of a regular dental regime, and it's important to quickly get your pet used to the somewhat unnatural process of having their teeth brushed.
Start out by giving your dog or cat a small sample of the toothpaste to introduce them to the taste. And reward them afterwards with play, petting or a favorite activity, to positively reinforce the brushing process.
We recommend starting your pet out as young as possible while they are still puppies or kittens, as they will be far more receptive to brushing if you begin at an early age.
Start by gently lifting up your dog or cat's top and bottom lip one side at a time and lightly rubbing their teeth with your finger once a day. Once they become used to this, you should begin use of the finger or tooth brush.
We recommend the following handy tips for the process of cleaning your dog or cat's teeth at home
Lift their upper lip to expose the outside surfaces of your pet's gums and teeth.
Brush with gentle circular motions to clean both the teeth and gums, exactly as you would your own.
Concentrate on cleaning the outside (cheek-facing) surfaces, as most pets will not allow you to brush the inside surface of the teeth.
Be sure to clean the back upper molars and canines, as these teeth tend to quickly build up tartar.
Here's a great little video that walks you through the process …
3. Use Specially Formulated Dental Dry Food
A number of dog and cat food manufacturers now make several varieties of dry food formula which has been specially designed to abrasively prevent the build-up of plaque or tartar on your pet's teeth and gums.
At Clyde Veterinary Hospital, we strongly recommend Hills Prescription Diet t/d Dental Care for Dogs and Cats – it features a specially formulated, species-specific kibble shape and size, with "fibre matrix technology" for maximum plaque reduction.
And during "Dental Month" at Clyde Vet, we're offering a huge 15% off RRP on all Hills Dental Care Dry Food until August 31 – email info@clydevet.com.au or phone 9052 3200 to speak to our friendly staff about your needs.
4. Use Dedicated Dental Chews
Similarly, several manufacturers make dedicated dental chew treats for dogs, which are a great-tasting way to supplement a daily brushing regime, and provide a little reward for putting up with the hassle of brushing.
We're such huge fans of Oravet Dental Chews for Dogs, that we're also offering $10 off per bag of Oravet if purchased before August 31 – strictly limited to the first 20 purchasers.
That's up to 25% off the recommended retail price until August 31 – email info@clydevet.com.au or phone 9052 3200 to speak to our friendly staff about your needs.
5. Add a Specialised Dental Formula to Their Drinking Water
Oxyfresh have also come up with this extremely clever way of destroying bacteria and removing plaque – a dental additive solution you can mix in with their regular water – it's completely colourless and odourless so they'll never even know the good they are doing themselves every time they go to the water bowl – and it's effective for both dogs and cats, or indeed any animal species.
We don't recommend relying primarily on this as a preventative measure, but it can certainly help imrove the effectiveness of a more hands-on dental care regime.
6. Give Dogs a Raw Bone
Although this is one preventative measure your dog will truly relish, we recommend exercising caution with this. Importantly NEVER give your dog a cooked bone, as they are liable to splinter and can seriously injure your pet, and if possible supervise them while they are gnawing at it.
Always give your dog a human-grade meat bone (some preservatives used in inferior meats contain substances that can harm your dog), with enough meat still on to retain a degree of softness, and make sure the bone is large enough that they won't attempt to swallow it.
Chewing on the bone's rubbery surface can help remove plaque and tartar build-up and strengthen your dog's gums, providing improved resistance to dental decay.
We recommend a maximum of 1-2 bones per week, and try to leave a minimum 3 day gap between treats.
7. See Your Vet Regularly
This one may seem obvious, but it's important that your pet has regular dental checkups from an early age – you don't want them having to live with a lifetime of tooth or other dental issues, which can lead to a loss of appetite, and restrict their enjoyment of life.
Only a professional dental check can properly diagnose and treat the often deeply hidden teeth or gum issues that can lurk deep within your dog or cat's mouth.
Older animals will also benefit from occasional dental scaling, and your vet can advise if this would be appropriate and beneficial for your pet. Depending on the age of the animal and the level of build-up, they should only need professional dental scaling at 2-3 year intervals.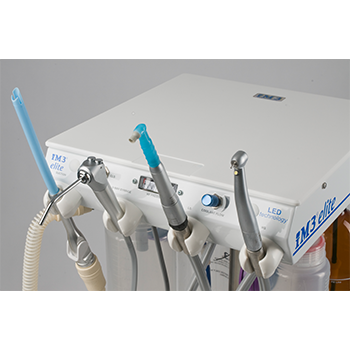 Ultrasonic scalers are handheld devices which use ultrasonic vibrations to remove hard, calcified deposits from your pet's teeth. They also create shockwaves that disrupt bacterial growth, while also washing flushing the pockets between teeth and any exposed root surfaces with water.
The procedure is usually followed by a professional tooth polish, which smooths the surface of the tooth to minimise bacteria and plaque build up.
We do strongly caution against any lay dental practitioners who claim to perform dental scaling free of anaesthesia. For starters, the procedure can be painful and distressing for your pet, but just as importantly – it's been shown to be ineffective as a preventative measure – in most cases, your pet is simply not going to allow anyone to insert anything deep enough into their mouths to provide for an effective clean.